Following the devastating earthquake on 25 April 2015 that saw over 8,000 dead and thousands more injured and displaced, the Hospital and Rehabilitation Center for Disabled Children (HRDC) in partnership with the B&B Hospital, launched the Emergency Surveillance and Rehabilitation (ESAR) campaign to identify, treat and rehabilitate victims and provide relief material and medical assistance in the earthquake-affected areas. The ESAR camps began the very next day following the earthquake and continued over the next 4 months, getting to the most unreached areas in 7 districts (Sindhupalchowk, Kavre, Nuwakot, Dhading, Lalitpur, Makwanpur and Chitwan) that were hit hard by this unprecedented calamity.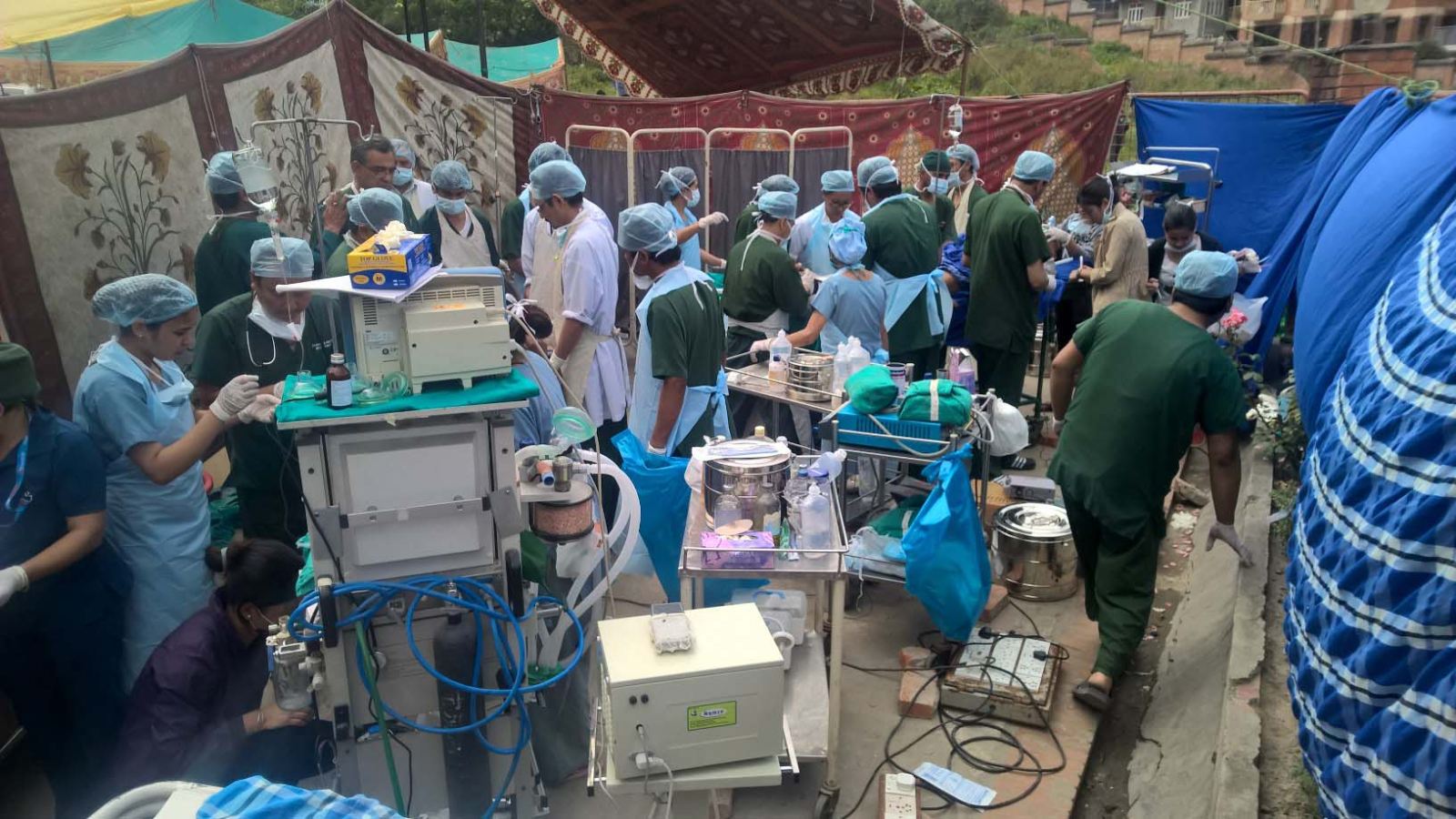 Our makeshift "tent operating theatre": 3 life-saving amputations and a limb-saving leg compartment release had to be performed here as major aftershocks continued to rattle the hospital
Before each camp, a pre-camp scouted the needs in a specific area, making sure that duplication of services didn't take place. Permission and help from local health authorities and security forces was taken to make sure that the maximum number of turnout occurred and the camps ran in a smooth and organized manner.
The initial rounds of camps were centered in the worst hit districts of Sindhupalchowk (3000 deaths), Dhading, Nuwakot and Kavre. A lot of earthquake related injuries were identified and taken to hospital for treatment and rehabilitation. Gradually, this pattern made way to conditions that were secondary to living in open shelters, lack of clean drinking water, food and sanitation; post-traumatic stress and injuries sustained during clearing rubble.
As of now, 92 comprehensive health and relief camps have been conducted, providing services to nearly 44,000 people. A total of 275 victims were admitted between the HRDC and B&B hospital. Out of these, 240 patients underwent a total of 540 surgical procedures.
The pie chart below shows a breakdown of the major surgical interventions carried out during the earthquakes.