Munna's Story
I can go back to school now!

Munna is a 9 year old boy from Motihari, India, across the Nepalese border. He is one of five siblings, and comes from a socioeconomically marginal household where dad is a daily wage laborer and mom is a housewife. He suffered from a condition called 'genu varum' where the knees are bent abnormally and cause difficulty in walking. This is usually due to poor nutrition to the growth plates in bones due to vitamin D deficiency. HRDC sees a lot of patients like Munna from across the border from India who come to one of our 'mobile clinics' that scout such children across the length and breadth of Nepal.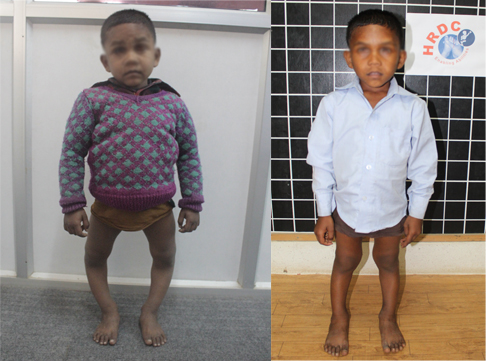 At HRDC, Munna underwent 'growth modulation', a surgical technique that exploits the concept of differential growth in growing children to straighten deformities, particularly around the knee. In due course, Munna regained a normal knee, and with it, the ability to walk and run comfortably. His situation at school improved from that of an ostracized and often bullied child to a confident and enthusiastic one, thanks to HRDC's intervention!